Why should I consider Microdermabrasion?
Microdermabrasion is a brilliant option for you if you want to rejuvenate your skin and wind back the clock but want a completely non-invasive treatment. The great thing about Microdermabrasion is that there is absolutely no downtime involved and it is completely risk and pain free.
What is Microdermabrasion?
It's a skin re-surfacing treatment, essentially a deep exfoliation. Using a hand-held device, your skincare Therapist will direct a controlled spray of micro crystals onto the skin which removes the outermost layer of dry, dead skin cells. When you remove the top layer of skin (the stratum corneum), the body interprets it as an injury. It then quickly replaces the lost skin cells with new, healthy ones. How clever is that! Microdermabrasion also stimulates blood flow which increases the flow of oxygen and nutrients delivered to your skin cells, improving cell production.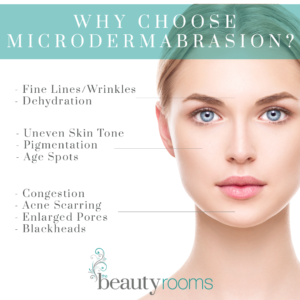 What are the top benefits of Microdermabrasion at The Beauty Rooms?
You'll see a change in the clarity, elasticity and texture of your skin.
Pores are unclogged and reduced in size.
Acne scars are reduced.
Fine lines and wrinkles are softened.
Uneven pigmentation is lightened.
The removal of dead skin cells allows your skincare products to penetrate deeper into the skin.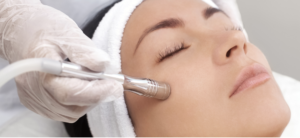 Microdermabrasion treatment in progress
If you're interested in a Microdermabrasion treatment at The Beauty Rooms please contact us to book your FREE consultation with one of our skincare specialists.
Click here for a full list of our Microdermabrasion treatments and prices and to book an appointment online.