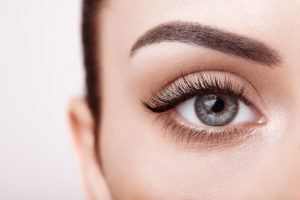 We offer a range of treatments for your Lashes and Brows at The Beauty Rooms. Shaping and Tinting your Lashes and Brows is an instant way to frame your face or take your lashes to the next level with our Lash Lift Treatment or Lash Extensions.
We have a range of options for you to choose from to suit your desired look.
Please note that a patch test will be required 24 hours prior to your appointment when tint is being used. We will arrange this with you upon booking. This applies for the following treatments:
Lash Extensions, Brow Lamination, Lash & Brow Tinting and Lash Lift. 
Brow & Lash Shaping and Tinting
Shaping your brows is a great way to instantly frame the face and a Brow Tint will give your brows extra fullness and long lasting definition.
Lash Tinting creates longer and more voluminous looking lashes with the benefit of waking up in the morning, make-up free, with darker more defined lashes.
Eyebrow Shape – £13
Eyebrow Tint – £9
Eyebrow Tint & Shape – £19
Eyelash Tint – £18
Eyelash & Eyebrow Tint & Shape – £33
Lash Lift / LVL Lashes
Our Lash Lift treatment lifts your natural lashes at the root, creating the effect of longer, thicker lashes. The treatment includes a lash tint for extra definition to create a mascara style effect meaning you wake up in the morning with perfect lashes.
Lash Lift Treatment – £55
Semi-Permanent Lash Extensions
Lash Perfect semi-permanent Lash Extensions are a high-quality brand which give you longer, thicker lashes. A natural or more glamorous result can be achieved depending on your desired look. Each false lash is beautifully curled and tapered and is carefully applied individually to your own eyelash, to look and feel like your natural lashes.
Full Set – a false lash applied to each of your own natural lashes for a fuller result – £68
Natural Flare – false lashes are scattered throughout natural lashes for a more natural result – £55
Maintenance – (2 – 3 weeks) – £33
Lash Removal – £15
Click to view Lash Extension photos in The Beauty Rooms gallery.
Brow Lamination
The 'Fluffy Brow' Brow Lamination treatment breaks down the bonds of your brow hairs to allow them to be straightened and repositioned into a fuller shape, and then sets them into their new position so that they stay in place all day long.
This fantastic treatment can achieve the following:
Create a fuller shape
Correct brow symmetry
Cover sparse areas
Create an arch
Lift downward pointing hairs
Flatten and soften coarse hairs
Straighten curly hairs
Brow Lamination treatment – £40
Click to view Brow Lamination photos in The Beauty Rooms gallery. 
Lashes and Brows Pre-Treatment Advice
You will be required to carry out a patch test 24 hours before your appointment to test for allergic reactions. Appointments cannot go ahead without a patch test.
Please note if you have had your COVID vaccination you will need to wait 2 weeks and then have another patch test before your treatment can be carried out. This also applies if you are pregnant. 
Patch testing is required for the following treatments: Lash Extensions, Brow Lamination, Lash & Brow Tinting and Lash Lift. 
If you are a contact lens wearer please bring your lens case when having a tinting treatments as lenses will need to be removed.
Book a Lashes and Brows Treatment Online
(Please note Semi Permanent Lash Extensions are not available to book online)