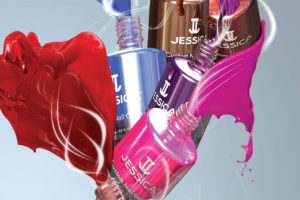 Nail Treatments at The Beauty Rooms are carried out using the very best nail brand JESSICA. Recognised as the best in the world, JESSICA's unique manicure technique and products are designed with the health of the natural nail in mind, encouraging growth and strength whatever your nail type. Our Nails treatments for hands and feet are available with either JESSICA's classic Custom Nail Polish or using GELeration Gel Polish which delivers a long lasting, flawless finish that's dry in seconds.
If you want to take your Pedicure a step further and remove all of the hard skin from the soles of your feet then take a look at our Callus Peel Treatment. It's the perfect solution for showing off your feet in summer.
JESSICA Manicures
GELeration Manicure (45 minutes) – £35
Our most popular manicure. GELeration is a high shine Gel Polish that dries instantly and stays on for weeks. Designed with the natural nail in mind to avoid damage. The upmost care and attention is delivered to the cuticles, and nails are shaped and then polished to perfection using GELeration in your choice of colour. 
Manicure (45 minutes) – £30
A classic manicure using nourishing oils and creams to condition and care for your cuticles before they are tidied with professional tools. A relaxing hand and arm massage is carried out before nails are filed, buffed and a treatment base coat is applied. Your nails are finished with a high shine JESSICA Custom Nail Polish in your choice of colour
Gel Nails Soak off and Tidy (20 minutes) – £15
Any existing Gel Polish is removed. Nails and cuticles are tided and cared for with conditioning cream and a strengthening base-coat.
Post-Gel Recovery Treatment – 45 minutes- £38
Rejuvenate and restore your nails with an intense moisture boost. After your nails have been soaked, filed and tidied, relax with some hot mitts followed by a relaxing hand and arm massage. Your treatment is completed with a restoring treatment base coat and you will be given a bottle of the base coat to take home with you.
JESSICA Pedicures
GELeration Pedicure (45 minutes) – £35
A popular pedicure all year round. The instant drying, high shine GELeration Gel Polish allows you to put socks and shoes straight back on after your treatment. Includes hard skin removal, cuticle care and a relaxing foot massage along with nail clip and file.
Mini Pedicure (30 minutes) – £30
A quick fix for your feet. Hard skin is filed away before conditioning cream is massaged in, cuticles are conditioned and tidied before finishing with the high shine JESSICA Custom Nail Polish high-gloss polish in the colour of your choice. (Please bring open-toe shoes).
Zen Spa Pedicure (1 hour) – £40
The perfect treat for your feet. Relax and refresh with detoxifying crystals in our foot spa before hard skin is scrubbed and filed away. Cuticles are conditioned and professional tools used to remove excess growth. A reviving foot cream is massaged in before toe nails are clipped and filed. Nails are finished with the high shine JESSICA Custom Nail Polish in the colour of your choice. (Please bring open toe shoes).
Add Gel Polish to your Zen Spa Pedicure for an extra £5
Callus Peel
Do you want to proudly show off your feet without having to worry about hard skin? Then this is the treatment for you. Skin softening patches are applied to the hard skin and calluses on the soles of the feet. Whilst you sit back and relax with your feet wrapped, the skin dissolves and softens so that it can be gently filed away. Feet are then moisturised leaving them soft and revitalised.
Callus Peel Treatment – 30 minutes – £28
Callus Peel Plus Mini Pedicure – 1 hour – £50
Callus Peel Gel Pedicure – 1 hour – £55
Nail Post-Treatment Advice
For Pedicures please bring open top shoes with you to your appointment. Do not wear socks, enclosed shoes or slippers for 1-2 hours post-pedicure.
To prolong the life of your Manicure wear gloves for washing up and gardening.
Avoid biting or tearing the finger nails or surrounding skin, keep an emery board to hand and gently file rough edges or breaks.
Use cuticle oil (olive oil also works). A small amount at night will help keep skin nourished.
Use moisturising hand or foot cream regularly to keep skin hydrated and soft.
Apply top coat (Jessica Brilliance) 3-4 days after your treatment to prolong the life of your polish.
Use a foot file on a regular basis on dry feet and or heels.
Book a Manicures and Pedicures Treatment Online