Dermaplaning – what is it? And why does it live up to the hype!?
You've probably heard us rave about this amazing treatment at TBR, and trust us when we say this is no 'buzz trend' treatment. It really really works!
Dermaplaning is carried out using a fine scalpel blade to gently abrade the surface of the skin using light feathering strokes.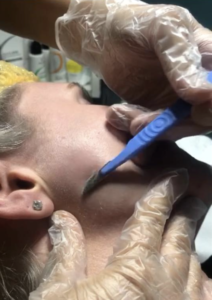 Here's our Dermaplaning expert Emma in action
Your face is made up of layers and layers of dead skin and it's this build-up of dead skin cells that causes many of the skin complaints that we all battle with such as breakouts, dullness and fine lines. But Dermaplaning does more than just exfoliate!
How many of you hate that 'peach fuzz' (technical term vellus hair) on the sides of your face? We all have it but it can sometimes make getting a smooth make-up application difficult, and some people can be quite self-conscious about it.
This is where Dermaplaning really comes into its own! It removes your pesky vellus hair and by also removing the top layers of dead skin cells, you have the perfect formula for a glowing complexion!
And what makes it even better is that it's completely pain free and there is no down-time. The results are instant!
Just look at the glowing results our clients have had after a Dermaplaning Facial
After a Dermaplaning Facial you'll find that not only is your skin glowing but that your make up will go on so much more smoothly. And your skin care products will be more easily absorbed into the skin which will increase the effectiveness of their ingredients as they penetrate deeper into the epidermis.
It's also the perfect treatment to consider if you are pregnant because no chemicals are used so it is completely safe during pregnancy.
And please don't worry about the vellus hair growing back thicker – this is a myth!
For more information on our Dermaplaning treatments or to book an appointment or free consultation visit our Facials page.