FEBRUARY OFFERS
Our Image Skincare O2 Lift Facial is known as 'the red-carpet facial' because many celebrities have this facial done the day of a big event as it delivers instant visible results! The treatment infuses oxygen (which you can feel bubbling on your skin), plant derived stem cells, peptides and a high concentration of enzymatic botanicals which invigorate the skin and give it a gorgeous luminous glow. Usually £60, but we think this treatment is so amazing we want everyone to try it, so are offering it at the discounted price of just £40 this month.
~~~
February means Valentine's Day! We believe Valentines shouldn't just be for people in relationships. Us single ladies should use it as an opportunity to love OURSELVES. Let's face it, it's something we could all learn to do a little more of! We've created a package this month for all you ladies with someone special in your life who you like to look good for. And a package for you single ladies who want to pamper and indulge in some wonderful self-care.
We look forward to showing you some love! x
~~~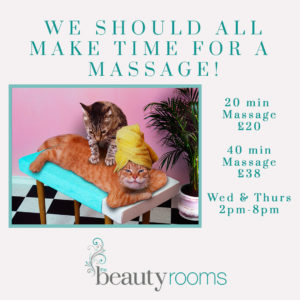 There are so many benefits to having a massage, so we are offering discounts on our 20 minute and 40 minute massages with our specialists Corina, Chloe and Emma. We would like everyone to be able to take time out to enjoy an amazing massage with us at The Beauty Rooms, and we guarantee you will leave feeling relaxed and rejuvenated inside and out!
~~~