No Need To Go Under The Knife!  Here's how you can achieve Facelift results without the surgery…
The BT Nano Machine is a dream come true for those of us who would love the effects of a facelift but don't want to have to resort to expensive and invasive surgery.
The revolutionary BT Nano uses micro current which is an extremely low level of electricity that mirrors the body's own natural electrical impulses. Micro current acts as an external source of energy that the body can use to accelerate healthier looking skin.
How does it work?
Micro-current can re-educate and strengthen your facial muscles. The micro current passes into the skin via probes and conductive gloves which lift whilst stimulating collagen & elastin production giving you the appearance of a face lift.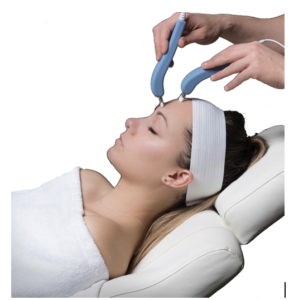 Micro current is applied to the skin via probes. It is completely painless.
Features & Benefits of the Non-Surgical Facelift
~ Firms, tones & strengthens muscles
~ Increases collagen, elastin production & cell renewal
~ Visibly improves signs of ageing
~ Plumps and hydrates skin
Who is the Non-Surgical Facelift suitable for?
This is the perfect treatment for you if you want to target:
~ Fine lines & wrinkles
~ Crows feet & expression lines
~ Sagging jowels
~ Overall lift of slack muscles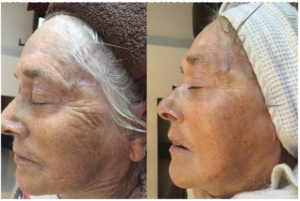 What a result! Before and after pictures after a course of 10 treatments.
Our Recommendation
To achieve longer lasting results we recommend a course of 5-10 treatments. If you book a course of treatments in a block of 5 or 10 you will receive a discount on the price. There are several treatment options available starting at £40 for a 30 minute Express Lift to a 75 minute Facial Plus treatment. Please click here for full details.
To book a consultation or if you'd like any more information on the BT Nano Non-Surgical Facelift please call or email us at the salon.
01245 351708 | 07834 740471
info@the-beauty-rooms.co.uk