Microdermabrasion & Peels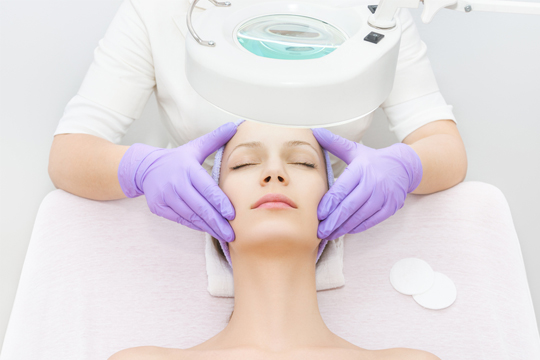 What is a Glycolic peel?
This enzyme based facial uses glycolic acid which is a natural acid derived from sugar cane. The treatment gently resurfaces and treats the deeper layers providing a solution to more serious skin concerns and conditions. It provides significant benefits to the overall health & appearance of the skin.
Image IPeel Treatments
Image offer a variety of exclusive peeling solutions perfectly customised to target specific skin conditions such as acne, ageing, sun damaged, rosacea, pigmentation.
IMAGE Peels
All Image peels are formulated in a revolutionary Aloe Vera based gel to simultaneously peel & heal the skin.
These peels are considerably stronger than the signature treatment, for best results a course of 4-6 treatments are recommended every 2-4 weeks. However a one off facial will still give amazing results. The skin needs to be prepped 2 weeks before a chemical peel can be carried out with at least one product containing glycolic acid and a physical SPF moisturiser to protect against UV rays.
Your skin care specialist will advise on this during consultation.
IMAGE Skincare programme
The Image Skincare programme is simple. It consists of a three-phase process for rejuvenated healthy skin.
PHASE 1 – Prepare- stimulate: Daily use of Image cosmeceutical skincare products.
PHASE 2 – Correct- Improve: A series of clinical resurfacing treatments.
PHASE 3 – Maintain- Enhance: Monthly maintenance programme with an Image IPeel
facial treatment.
Wrinkle Lift (45 minutes) – £80.00
Ideal for pigmented skin, photodamage, sun/dark spots, ageing
This results driven treatment combines the most innovative & effective botanical brighteners to reduce pigmentation & leave your skin instantly younger, brighter & luminous.
This peel consists of a blend of the AHA exfoliator Lactic Acid, pigment suppressor Kojic Acid, as well as polypeptides & camomile. The Lactic acid allows greater exfoliation resulting in deeper penetration of the highly effective kojic acid. This will result in faster reduction of pigmentation and even melanin distribution.
Acne Lift (45 minutes) – £80.00
Ideal for acne/ oily/ congested/ rough and blemished skin.
Being prone to an acne skin type or condition can often become upsetting & tiring constantly trying to battle with & maintain skin which is constantly breaking out in spots. Our acne peel offers you an answer to this without drying out the skin.
A potent blend of alpha & beta hydroxyl acids combined with plant derived stem cells reduce blemishes, redness & diminishes post breakout scarring. Other highly effective ingredients detoxify & purify the skin while treating and healing breakout activity.
After Treatment Care
Skin peeling within 2-7 days post treatment is likely. The use of IMAGE skincare, post peel, is essential to help soothe, heal & protect the skin. Due to the high levels of exfoliation your skin will be slightly more sensitive to the sun, therefore it is compulsory to use a physical (zinc oxide/titanium dioxide) SPF. Cosmetic SPF's do not offer enough protection. Your skin specialist will advise on a suitable home care regime to enhance the results of your treatment.
Microdermabrasion
Microdermabrasion is a safe, non-chemical, non-invasive skin resurfacing treatment. Using a controlled spray of microcrystals, the outermost layer of dry, dead skin cells are removed, revealing younger, healthier looking skin. The hand held device allows your therapist to target your specific areas of concern. This treatment is suitable for both the face and body.
Microdermabrasion treats:
Acne & scarring
Fine lines & wrinkles
Pigmentation & sun spots
Blocked pores & congestion
Facial Treatment (15 minutes) – £30.00
Course of 6 – £150.00 (pay for 5 get 1 free)
Course of 10 – £270.00 (Includes 1 free treatment, plus receive a £20 voucher redeemable against any product in the salon)
Will include Double cleanse, microdermabrasion treatment, toner, serum and SPF moisturiser application.
Facial Treatment (30 minutes) – £45.00
Course of 6 – £225.00 (Pay for 5 get 1 free)
Course of 10 – £405.00 (Includes 1 free treatment, plus receive a £20 voucher redeemable against any product in the salon)
Facial Treatment (45 minutes) – £60.00
Will include double cleanse, microdermabrasion treatment, application of a hydrating masque, toner, serum and SPF moisturiser application. Treatment also includes a relaxing head, neck and shoulder massage.
Course of 6 – £300.00 (Pay for 5 get 1 free)
Course of 10 – £540.00 (Includes 1 free treatment, plus receive a £20 voucher redeemable against any product in the salon)
Combining Microdermabrasion and Enzymatic Peels
Combining both Microdermabrasion and a peel allows both physical and chemical exfoliation of the skin. Removing the dead surface skin cells with the Microdermabrasion allows deeper penetration of the chemical peel, therefore better results!
These treatments complement each other and can be undertaken every 2 weeks for a course of 3 or 6 treatments and then monthly for maintenance.
Course of 3, Combination Microdermabrasion and Peel – £210.00
Course of 6, Combination Microdermabrasion and Peel – £370.00