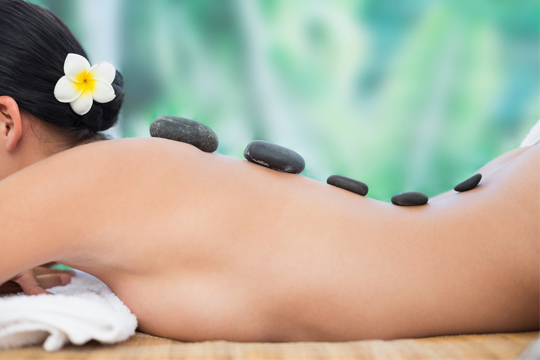 Massage is used to maintain physical health as well as inducing relaxation. It helps to alleviate the build-up of stress and tension in the muscles from every day use.
The Swedish technique is specifically aimed to relax and break down knots within the muscles, whilst also increasing oxygen flow. It is considered to be a much deeper.
Massage and Body Treatments
A deep therapeutic massage using a combination of techniques including deep tissue massage, the Swedish technique and other techniques which our therapists have learnt during their vast experience. Our massages are complimented with the use of Kokolokahi massage oils which are natural, vegan and designed to be tailor made to your individual needs. Choose from Strength, Revive, Balance, Serenity or Harmony.
Back, Neck & Shoulder Massage – 30 minutes – £30
Full Body Massage – 1 hour – £49
Himalayan Hot Salt Rock Massage
Himalayan Hot Salt Rocks are used to massage the body, with comforting, deep tissue techniques to ease muscle tension whilst promoting a sense of calm. Skin is left hydrated from the mineral rich products. You can even take the rocks home with you and dissolve them in the bath.
Back, Neck & Shoulder Massage – 30 minutes – £40
Full Body Massage – 1 hour – £59
Hot Oil Candle Massage
A luxurious massage treatment to melt away tension and nourish the skin.
Using hand-made Vitamin E and Shea Butter rich candles which melt into a luxurious warm massage oil.
Back, Neck & Shoulder Massage – 30 minutes – £33
Full Body Massage – 1 hour – £54
Hot Stone Massage
Using smooth, volcanic basalt stones, this intensive massage uses the direct heat from the stones to relax and soften muscles. Accessing the deeper layers of muscle to relieve pain and stiffness and increase circulation.
Back, Neck & Shoulder Massage – 30 minutes – £38
 Pregnancy Massage
A specialist massage treatment carried out by our specifically trained and qualified Therapist. Using the Kokolokahi 'Balance' massage oil made from Coconut Oil and rich in Vitamin E to rejuvenate, heal and protect. 
Back, Neck & Shoulder Massage – 30 minutes – £35
Full Body Massage – 1 hour – £54
Back to Skin – 1 hour – £55
Relax and revive with the ultimate back, neck and shoulder massage to ease tension, coupled with Dermalogica's express facial for the ultimate relaxation and instant skin fix.
Exfoliating Body Scrub – 40 minutes – £35
Restore dull skin with an invigorating body scrub. Includes essential oils to smooth and relax muscles. A great pre-holiday treatment.
Purifying Back Treatment – 45 minutes – £47
De-stress your muscles and cleanse your skin of impurities with this relaxing back treatment. Dermalogica's advanced products will target concerns, whilst a Swedish massage will relieve knots and tension. Just like a facial for your back. Perfect for backs prone to oiliness and breakouts.
Hopi Ear Candles – 30 minutes – £30
A warm and balancing holistic therapy. When lit, these natural candles act as a chimney, creating a vacuum which stimulates the ear, facilitating removal of excess wax and impurities. This calming therapy can help with an array of problems such as sinusitis, tinnitus, hay fever, colds, excessive ear wax, general hearing loss and pressure relief from stress, headaches and migraines.